I remember sitting in a New Orleans hotel room in February 2004, our trip taken to celebrate our 2nd wedding anniversary, watching on TV Gavin Newsom, then the very new Mayor of San Francisco, begin marrying gay and lesbian couples in the beautiful, iconic City Hall. The images broadcast back at me were filled with love, and hope, and happiness, and it made me feel good about my own marriage because I was finally able to share the happiness that I'd experienced saying "I Do" to the love of my life with countless others who up until then had been denied the opportunity.
I sat in front of the TV with tears of happiness in my eyes over Newsom's desire to stick his political neck on the line to do what was right and fair. I could have been out at a jazz club, or the bar, but I needed to watch it unfurl so that I could feel close to my new home (at the time) and the amazing things that were happening there. We did eventually make it out that night and I raised a toast to the thousands of couples who were about to have their fondest dreams realized.
I remember reading about Dorothy Louise Taliaferro "Del" Martin and Phyllis Ann Lyon – a couple for 51 years – who were the first gay couple married in San Francisco and I couldn't stop the tears of happiness from flowing. I sat at my computer, reading all about their story, and try as I might I just could not wrap my head around why anyone would want to deny couples like that the opportunity to be wed. People like my father who has BEEN MARRIED THREE TIMES go on and on about the sanctity of marriage, as if they had any right to judge from their glass houses. It was disgusting and filled me with such anger.
Then, later, I sat with tears of sadness in my eyes as the marriages came to a halt and 400 gay couples were told, in no uncertain terms, that their love wasn't as important as my love, that their families weren't really families. On August 12, 2004 – the day the California Supreme Court voided all of the licenses that had been issued in February and March – was a sad day, to be sure, for those who had been able to stand up proud and say in front of all of their friends and family, "this is my husband," or "this is my wife."
Del is 83 years old and I am 79. After being together for more than 50 years, it is a terrible blow to have the rights and protections of marriage taken away from us. At our age, we do not have the luxury of time. —Phyllis Lyon
In the years since there has been a mighty struggle to reverse the hate and bigotry that ruled this state. When on May 15, 2008, the California Supreme Court held that denying marriage licenses to same-sex couples violated the California Constitution, things felt a bit brighter, like we might soon see a reversal of that earlier decree.  Once again Del and Phyllis were the first couple married in San Francisco, the only couple married that day in 2008 by the mayor in fact – after the California Supreme Court ruled that same-sex marriage was legal. Del died on August 27 that same year at the age of 87.

"Lyonandmartinwedding1" by NickGorton – Own work. Licensed under CC BY-SA 3.0 via Wikimedia Commons.
With California Proposition 8 ("Prop 8") – created by opponents of same-sex marriage and largely funded by right wing religious organizations – was put on the ballot as part of the November 2008 California State elections, I thought for sure there was no way it would pass. I thought that surely there were more Californians than not who supported a person's right to marry who they loved. But then the votes were tallied and it was SHOCKING to see just how many people thought that it was okay to discriminate against gay and lesbian couples, to tell them that marriage should only be between a man and a woman, that marriage was for the procreation of children and that since gays can't do that, they shouldn't be allowed to marry.
As a couple who had decided long ago, I tried arguing with supporters that their arguments invalidated MY marriage since we were not having children, but they wouldn't hear it. I was told that we could have children if we wanted to – not likely – and that made all the difference. I tried to point out that many heterosexual couples cannot conceive "naturally" and that their arguments were hurtful to them as well. The refused to listen, and so once again I was reminded why I left religion behind entirely and became an atheist.
Thankfully Proposition 8 was ultimately ruled unconstitutional by a federal court in 2010. After several long and protracted court cases, on June 28, 2013, the Ninth Circuit lifted its stay of the district court's ruling, enabling Governor Jerry Brown to order same-sex marriage officiations to resume.
I felt a distinct change in the air when in 2014, Charles Cooper, the lawyer who defended California's ban on gay marriage in front of the Supreme Court, told a reporter that his views on gay marriage "have evolved," while announcing that the family was planning his stepdaughter Ashley's marriage to her partner Casey in Massachusetts in June of that year. I just don't know how you can know a gay person and not understand how important an issue this is. Alas, the evangelicals and mormons don't seem to care, going on about how they love their gay friends (and yet they actively oppose something that comes down to one simple thing – love).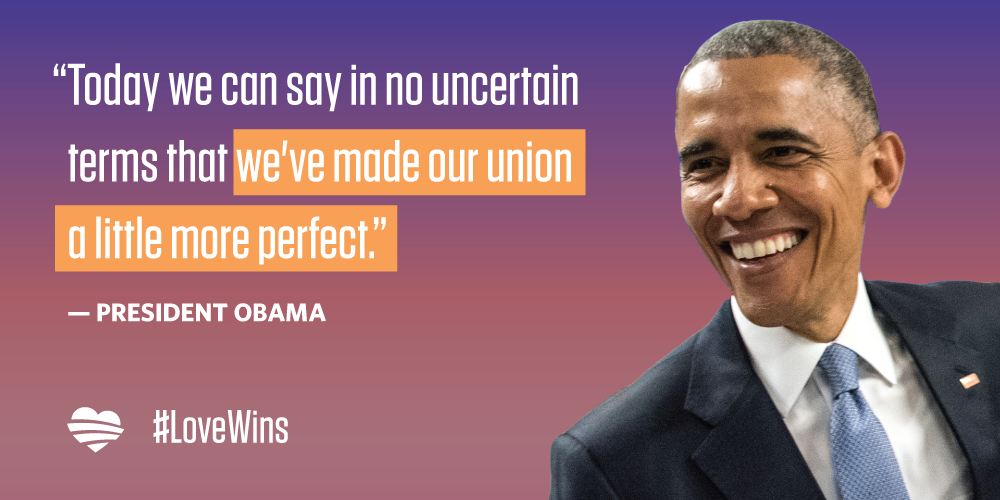 And so that brings us today, a really good day. With everything else that is going on in our country right now, it's hard to come out and say that I'm proud to be an American, but I am sitting up a little bit straighter, my smile a little bit brighter, with the knowledge that everyone in this country – regardless of sexual orientation – can marry the person they love. No one has the right to tell any gay, lesbian, or transgendered person that their love is somehow less than, that their coupling is an abomination.
I sit here knowing that love rules over hate and that a person's right to love who they want is safe from bigots and small-minded assholes.
First couple to get marriage license in Dallas County. They have been together 55 years. @CBSDFW pic.twitter.com/92ri2sTEUc

— Arezow Doost (@CBS11Arezow) June 26, 2015
In two months (more or less) we will be moving to Ireland*, a country whose citizenry voted overwhelmingly last month to change the country's constitution to support Marriage Equality. As I read the tweets and articles at home thousands of miles away, I was so profoundly excited to move to a nation where a population that is overwhelmingly religious does not discriminate on the basis of sexual orientation. Now, I can hold my head held high when we arrive and say that America feels the same.